And you can pre-order it at both Barnes & Noble (for $9) and Amazon (for $17.) Why the difference in price? Beats me. But I am so happy that it will be available before Thanksgiving. The paperback contains all 11 of the stories that comprise Volumes 1, 2 and 3 of the digital edition.
The wonderful Hawaiian novelist, Kiana Davenport, wrote about this book:
Reading Valentine's stories, I understand that this is not just an entertaining collection about a fabulously rich culture. She is memorializng her people, and her town. Thus, this becomes a fascinating and educational look at a region and culture relatively unsung in American literature. THE WHISKEY BOTTLE IN THE WALL, VOL. 1-3, SECRETS OF MARIENSTADT, is a tribute to a people and a place, the Pennsylvania Dutch, and their contributions to American history.
With compassion and satire, and beautifully detailed writing, Valentine has delicately chiseled out of these seemingly ordinary lives, the unique, profound, and quixotic traits that make each character memorable, even epic. Please read these stories slowly, then read them again, because while we are reading about life, love, and birth and death, we are also learning the rich culture and traditions of one of the most fascinating communities in our United States.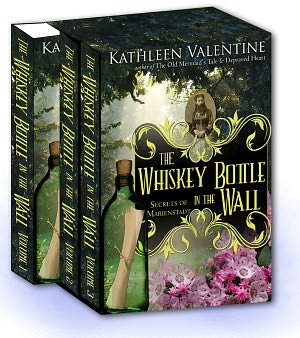 The stories are also available as a digital "boxed set" for both Kindle and Nook. All eleven stories are included. Or you can buy the 3 volumes individually for Kindle only. Volume 1, Volume 2, and Volume 3.
These stories are exceptionally dear to my heart because everyone of them is rooted in stories I've known most of my life. I hope that you will enjoy them.