I shamelessly stole this from
Janet is Hungry
. Awhile back I bought a small crockpot and discovered it is PERFECT for making the best risotto I've ever tasted! I've made saffron-onion risotto and seafood risotto and last night I made a fabulous chicken-onion-thyme risotto. And I got thinking how great it would be to try making dessert risottos using evaporated milk and other yummy ingredients.
To make crockpot risotto in a saute pan melt 2 tablespoons butter and stir in one cup of good quality arborio rice, saute stirring until the rice is well-coated and opaque. Then place it in the crockpot with liquid and other ingredients and cook on high for 1-2 hours until the risotto is thick and creamy. I want to try making it with pumpkin, cinnamon, and raisins. But first I think I'll try this one:
Cranberry Apple Dessert Risotto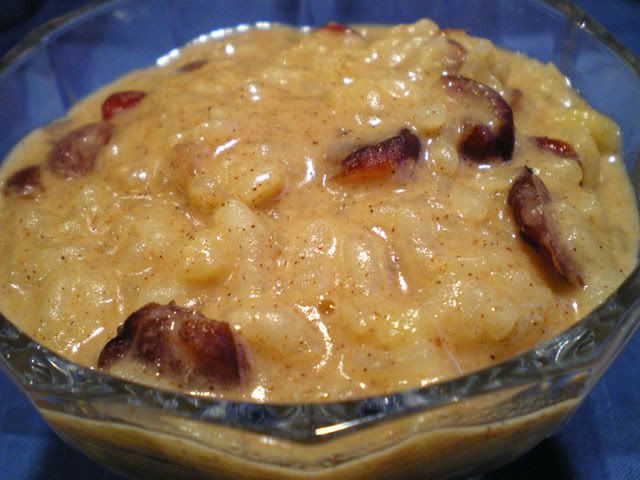 I started this recipe before dinner, then just put the pan back on the burner and added the last cup of liquid right before we were ready for dessert.
Cranberry Apple Dessert Risotto
1/2 cup dried cranberries
3 1/2 cups skim milk
1 tsp cinnamon
salt to taste
1 tbsp butter
1 large apple, peeled, cored and diced
1/2 cup Arborio rice
1 1/2 cups apple juice
2 tbsp packed brown sugar
1 tsp vanilla
1. In small bowl cover cranberries with boiling water for 30 minutes to plump.
2. Heat milk and cinnamon in saucepan. Set aside.
3. In a non stick skillet, heat butter and add apple to cook until tender (1 to 2 minutes).
4. Add rice and cook for 30 seconds.
5. Add 3/4 cup of apple juice and stir. When liquid is absorbed, add remaining apple juice and simmer until liquid is absorbed. Add sugar and stir well.
6. Begin adding hot milk, 1/2 cup at a time, stirring each addition until absorbed.
7. Stir in cranberries and vanilla. Serve with vanilla ice cream or whipped cream
And this succulent masterpiece is from
Food Blogga
. It just so happens I have a basket of figs in the fridge right now and I always have wine...
Dessert Risotto with Wine Poached Figs

Makes 4 servings
Print recipe only
here
.

Poached Figs:

2 cups Muscata wine (or other sweet dessert wine of your choice)
¾ cup granulated sugar
1 vanilla bean split down the middle
1 cinnamon stick
4 whole cloves
1 whole orange peel from a fresh orange
8 fresh Brown Turkish Turkey or Black Mission figs, quartered

Risotto:

1/2 cup Arborio rice
2 cups water
2 cups whole milk
1/3 cup granulated sugar

2 tablespoons chopped toasted pistachios, for garnish
Orange zest curls, for garnish

In a medium sauce pan, add wine, sugar, vanilla bean, cinnamon stick, cloves, and orange peel, and bring to a boil. Reduce and simmer for 20 minutes, or until the sauce becomes slightly syrupy.

Removes the stems from the figs and cut into quarters. Add to the wine and simmer for 10 minutes, or until tender, but not mushy. Remove from heat and set aside.

Add rice, water, milk, and sugar to a medium, shallow, heavy-bottomed saucepan, stir well, and bring to a boil. Lower heat to a simmer, letting the rice bubble gently for 35-45 minutes, stirring occasionally. When done, the rice will be plump, and the pudding will be thick and creamy. Give it a taste--the rice should be fully cooked yet maintain a slight firmness.

Allow to cool slightly before placing in individual serving dishes. Top with a spoonful of poached figs and drizzle the sauce over the pudding. Garnish with chopped pistachios and orange zest curls. Pudding can be served warm or at room temperature
And one more:
Caramel Risotto
makes about 1 quart
1/2 tablespoon butter
1/2 cup Arborio rice
1/4 teaspoon salt
4 cups whole milk
1 cup sugar
1/4 cup water
1 cup cream
Melt butter in a large heavy stockpot and cook the rice over medium heat for 3 or 4 minutes, stirring until translucent and golden. Add the salt and 4 cups of whole milk and bring to a boil, then lower to a steady simmer and cook for about 15 minutes, or until the grains of rice are beginning to soften and swell.
Meanwhile, heat the sugar and water in a pot with tall sides. A 1-quart saucepan will do, but be very careful. Put the cream in a smaller saucepan over low heat and warm. Heat the sugar and water over high heat until boiling. Boil without stirring until it turns a dark amber color. When the color begins to turn stir with a dry, clean spoon to keep the caramelization even. Hold on and let it get fairly dark; even if it burns a little that will be better than leaving it too light. When the caramel is dark enough, pull the pan off the heat and
carefully
add the cream, a little at a time. This is one of the most fierce reactions in the kitchen - be careful as it will bubble up and spatter. Stir in the cream.
Add the caramel mixture to the rice, stirring well. Stir this mixture over medium-low heat, keeping it to a steady simmer, for about 20 minutes. It's necessary to stir quite steadily to keep it from burning and to keep the rice moving.
The liquid will reduce and get darker, and the rice will swell more. It will look soupy. Keep cooking it down until it's the thickness you prefer - remembering, however, that it will firm up considerably in the fridge. Serve with whipped cream.