Yesterday my package from India arrived and I have to say I am thrilled with the 3 saris in it. Interestingly the rayon/silk "artisan" sari is the most beautiful with a lovely, weighty drape to it and the pattern is woven-in rather than printed-on. The block-printed pure silk sari is gorgeous, though quite a bit darker than the photos. I actually love the color, a deep saffron-gold with burgundy print on it. The "gaji" silk, which burn-tests to being mostly silk, is very, very pretty however the printed-on design is slightly skewed which will make an interesting challenge when the sewing begins.
I already cut out the artisan sari to make a summer shirt and had to make a lot of decisions while doing it on how to position the pattern-pieces to take advantage of the pattern. I wanted to use the pallu, the decorative end that is traditionally tossed over the shoulder, for the front of the shirt. The good thing about working with fabric with a simple weave is that you can position the pattern pieces in cross-wise or length-wise fashion s long s you stay with the grain of the fabric.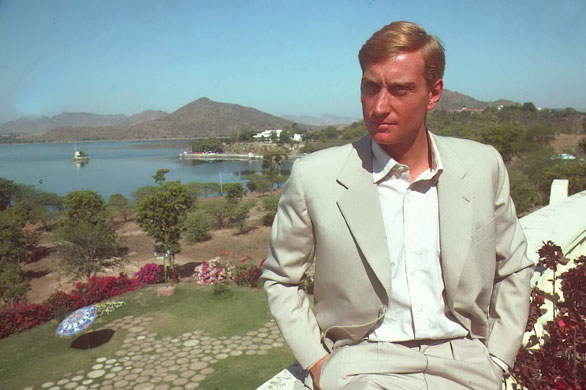 While I was working on the pieces I was thinking about a custom we had when I lived in Houston. Around the beginning of May, when things were heating up, there was a party known as the "tossing of the first lime". It was always a hilarious event held at various venues that had tables and benches outdoors. Everyone came in safari gear and gin and tonics were consumed in significant quantities. At the time I first got invited to a "toss" Masterpiece Theater was running their fabulous series, The Jewel in the Crown, and a number of us in my crowd anyway were enthralled by it. So, having the opportunity to dress like the cast of that program and drink massive quantities of gin was much appreciated.
So, tis the season to sit in the sunshine and imbibe gin, lightly laced with tonic water and a squeeze of heavenly lime and dream of saris floating in the summer breeze. Enjoy.